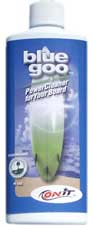 Environment Friendly Power Cleaner
Retail Price
$9.95
PaddleMe Sportswear is a proud distributor of
On It Pro
For Wholesale or Retail purchases please call or email us for information or
to place order

310-944-3909
or
sales@paddleme.com
Blue Goo - 4 oz. bottle
Environment Friendly Power Cleaner for your Board, Canoe or Boat
Blue Goo removes the toughest dirt, grime, stains, scuff marks, minor scratches, oxidation, salt build-up & yellowing from your board. It's deep cleaning action preps your Canoe, Surfski, or Surfboard for the application of Xtreme Cream high performance bottom coating.
Blue goo utilizes Hypexine, another proprietary product developed by Aurora Marine. It is a heavy duty stain buster and oxidation remover that is gentle to the surface. Products with Hypexine are widely used in the marine industry to rid yachts and pleasure craft of stains that cannot be removed by other products.
On it Pro, uses only Non-Toxic and Environmentally friendly ingredients to help preserve our planet!
Blue Goo is not recommended to be used on painted surfaces or on top of a clearcoat. Not to be used on Cars, Trucks etc...

Applying Blue Goo: Click Here For Instructions