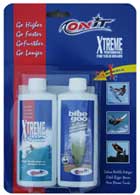 Retail Price
$29.95
PaddleMe Sportswear is a proud distributor of
On It Pro
For Wholesale or Retail purchases please call or email us for information or
to place order

310-944-3909
or
sales@paddleme.com
Xtreme Cream / Blue Goo Co-Pack
Xtreme Cream and Blue Goo Package
Includes 1 - 4 oz. Bottle of each product.
Xtreme Cream - Increases speed by reducing friction on the bottom of your canoe, surfski or board by over 15%. Use for better response, reduced paddle fatigue, access to bigger waves and more radical tricks. It puts a beautiful shine on your boards' bottom and resists salt and dirt to keep your canoe, surfski or board looking like new.
Blue Goo - Removes the toughest dirt, grime, stains, scuff marks, minor scratches, oxidation, salt build-up & yellowing from your board. It's deep cleaning action preps your board for the application of Xtreme Cream high performance bottom coating.

Blue Goo is not recommended to be used on painted surfaces or on top of a clearcoat. Not to be used on Cars, Trucks etc...